Earlier this week after dinner our family went swimming. As I turned on the water to the slide, I noticed a small leak between the gasket of the two slide pieces.
I was actually kind of annoyed because it was something else to put on my list of things to do.
About ten minutes later, my two-year-old daughter was walking around the pool and ventured underneath the slide.
As the water dripped onto her head she thought it was the greatest thing ever. She giggled, clapped and enjoyed the water like she was at a splash pad.
I found it humorous that the same thing that caused a point of frustration for me brought so much enjoyment to her.
This experience reinforced the notion that it is our perspective that creates the level of our enjoyment in life.
As we have experienced so much volatility in the markets this year, your perspective may have been challenged by an emotional roller coaster of loss, fear, and worry.
The market has come back a bit and that may have eased some of the emotion but I don't want you to confuse perspective and reality of what is going on.
Emotionally you may think well a 10-11% loss isn't that bad compared to a 26% loss, but don't let that get you complacent.
Take a quick look at this chart. It shows what type of gains you have to earn just to get back to square one after a loss.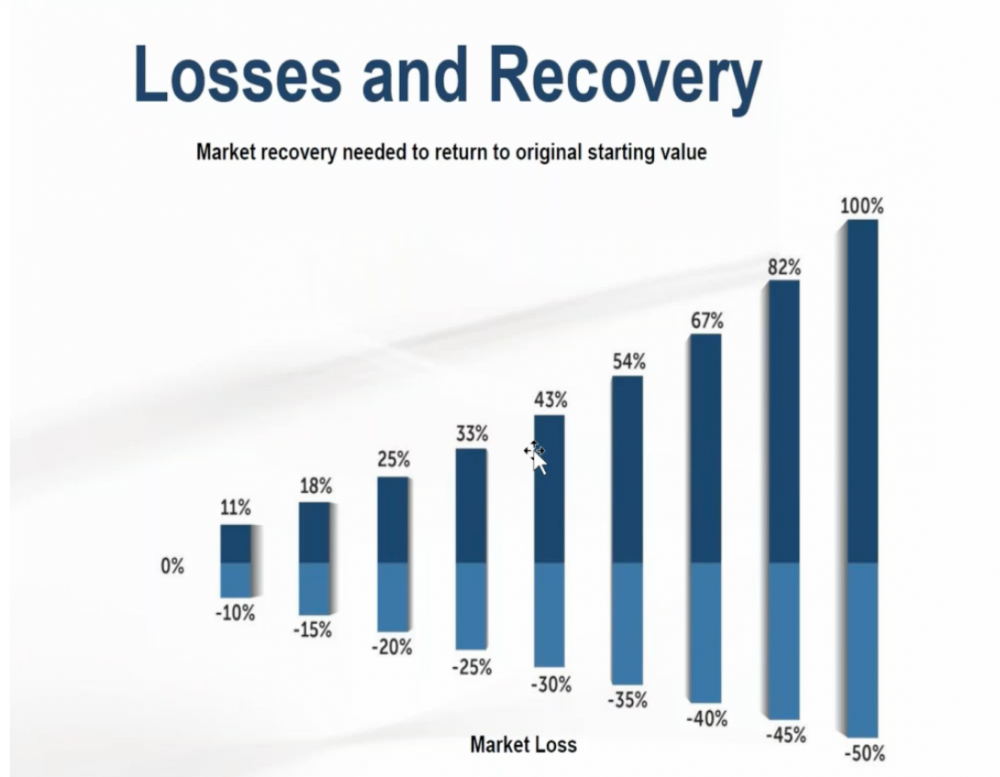 For example if you lose 25% you have to earn 33% from that point just to get back to even.
So I am not saying that you should stay uptight, worried or even angry…
Most investors that invest by emotion usually have mediocre results or maybe even large losses.
There is a better way…
A more mathematical and scientific way.
If you don't already have this in place or worried the investment game you are playing is outdated.
Let us help you do a complete review.
Just click here to book a complimentary breakthrough call.
You deserve peace of mind and constant growth year after year.
Remember — It's Your Time…